/*

*/?>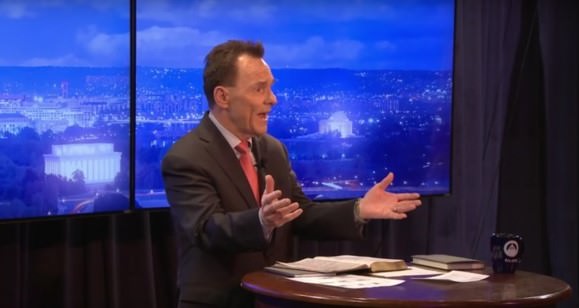 3 Things to Do When Faced With Threat to Religious Freedom
/*
January 21, 2016
*/?>
Posted By
nbrr
on
January 21, 2016 10:47am CST
By Anugrah Kumar
Dr. Ronnie Floyd, president of the Southern Baptist Convention, spoke at the Free to Believe broadcast event on Saturday, on National Religious Freedom Day, urging the Church in America to do three things in the face of the threat to religious freedom: seek the Lord, reach the lost and engage the culture.
"The secularization of America has done so much to disrupt American Christianity," Floyd, senior pastor of Cross Church in Arkansas, said at the event in Washington, D.C., on practical ways to advance faith, family and freedom in local communities. "Initially, it tried to make us become extinct … unsuccessfully. And then it attempted to neutralize us … and to some degree, a little successful. And now, the attention has turned toward silencing the church."
Floyd added, "That's one thing we cannot let happen."
The broadcast, on the 230th anniversary of Thomas Jefferson's Virginia Statute for Religious Freedom, also featured special messages submitted by presidential candidates. More than 160 churches in all 50 states tuned in to listen to the broadcast of the event, co-hosted by Family Research Council President Tony Perkins and Rick Scarborough of Vision America.
Talking about the event, Perkins said: "Religious liberty, the church, and our core beliefs have all been frayed by the words and deeds of this administration. As Christians, if we don't have the freedom to live according to our faith — whether it's in the home, the workplace, or in school — then religious liberty is a meaningless phrase."
Floyd continued that we must not live out what Judges 17:6 says: "In those days Israel had no king; everyone did as they saw fit."
Christians need to do three things, he suggested. "Seek the Lord, reach the lost, engage the culture."
He quoted Colossians 4:2-6, "Devote yourselves to prayer, being watchful and thankful. And pray for us, too, that God may open a door for our message, so that we may proclaim the mystery of Christ, for which I am in chains. Pray that I may proclaim it clearly, as I should. Be wise in the way you act toward outsiders; make the most of every opportunity. Let your conversation be always full of grace, seasoned with salt, so that you may know how to answer everyone."
We're called upon to prevail in prayer, Pastor Floyd said, adding that the greatest need in the church in America today is revival. "Great prayers always precede great movements of God."
Floyd then said no matter what is happening in America today, we must seek the Lord and do so with a watchful eye. He said many churches do not even know what's happening to culture in America, and therefore they may not even be able to pray effectively.
We also need to pray for the open door so that we can share the Gospel, he added.
America is behaving the way it is behaving because the majority of the people do not know the living reality of Jesus Christ, Floyd told listeners. Churches must have a vision to reach their towns or cities with the Gospel of Jesus Christ, he said, stating that only then will we have the capacity of engage the culture.
But people won't listen to us unless our tone is right, he stressed. Let's watch the tone of how we say things, he said.
Floyd said he is often asked if he thinks there's a hope for America. The answer is a resounding yes, he concluded. "Because I choose to believe God. What are you believing? …God can do anything, anytime, anywhere, with anyone… My God can do more in a moment than you can do in a lifetime."