Products For Churches
Here are some products that you may find useful for educating your family, friends, Sunday School classes, small groups, etc.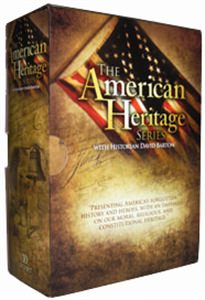 American Heritage Series
Featuring David Barton
The American Heritage Series presents America's forgotten history and heroes, emphasizing the moral, religious and constitutional foundation on which America was built. AHS is ideal to use in Sunday Schools, small groups, and your home!
The Role of Pastors & Christians in American Government
By David Barton
How should a Christian contribute to public affairs? Investigate the examples of the Rev. Dr. Jonathan Mayhew, Roger Sherman, Charles Thomson and other Christians at the vanguard of the Revolution. The Church and its leaders played a vital role in achieving American independence and they established a precedent for today's Christians to follow. Discover Biblical guidelines for political involvement and ways to act upon your convictions and learn about your role in protecting American's heritage as a pastor!
By Rabbi Lapin
Take advantage of all 4 teachings these lessons from Rabbi Daniel Lapin's Genesis Journeys. Tower of Power, Madam I am Adam, The Gathering Storm, and the Clash of Destiny are all wonderful resources for your church and home!
The Truth Project
By Dr. Del Tackett
A DVD-based small group curriculum comprised of 12 one-hour lessons taught by Dr. Del Tackett. This home study is the starting point for looking at life from a biblical perspective. Each lesson discusses in great detail the relevance and importance of living the Christian worldview in daily life.
Resource Groups for Pastors and Churches
Looking for additional statistics or information for a sermon? Check out these helpful organizations!