/*

*/?>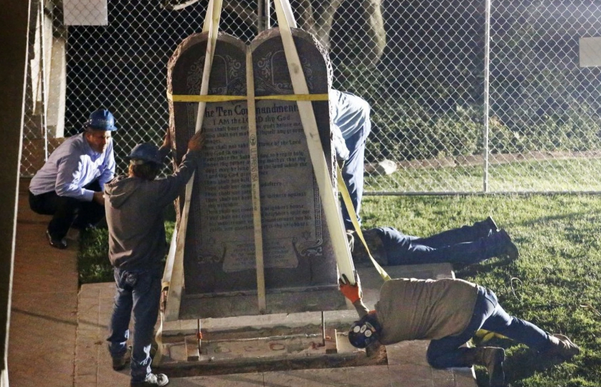 Oklahoma: 10 Commandments Removed under Cover of Darkness
/*
October 7, 2015
*/?>
Posted By
NBRR
on
October 07, 2015 04:50pm CST
Under cover of darkness between 10:15 PM and 11:30 PM on Monday, October 1, 2015, workers removed the Ten Commandments statue from the Oklahoma Capitol grounds announced Office of Management and Enterprise Services spokesman John Estus.  "We wanted it removed as quickly and safely as possible with little interruption as we could," he said. "We didn't want disturbance that could've complicated the removal."
In a 7 to 2 ruling in June the Oklahoma Supreme Court said, 'Oklahoma's Ten Commandment statue must be removed.'' They decided that the Ten Commandments violated a state constitutional prohibition on the use of public property to support 'any sect, church, denomination or system of religion.' The 6' tall stone monument was erected in 2012 after the state legislature approved the erecting of the statue paid for from private donations.
The surprising ruling out of conservative Oklahoma in the Bible Belt was met with opposition by Governor Mary Fallin, who is open about her Christian faith, and stated, 'Oklahoma's Ten Commandment statue isn't going anywhere.' Governor Fallin was right when she said, 'The court got it wrong.' But even more shocking than the ruling is the fact that someone ordered over 24 state troopers to stand guard over the removal of the monument for fear of protestors.
What they don't understand is that Christians don't protest with violence. They protest through the legislative process and at the ballot box. State legislators are researching the possibility of putting the issue that allowed this ruling on the ballot to correct the constitutional question. That would allow the monument to be taken from its current resting place at the offices of the conservative think tank Oklahoma Council on Public Affairs back to its rightful and lawful place on the capitol grounds.
Read the full article here: Washington Post