/*

*/?>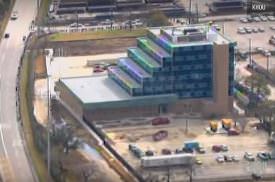 WATCH: When 15,000 People Prayed for Life at Houston's Planned Parenthood "Super Center"
/*
August 21, 2015
*/?>
Posted By
NBRR
on
August 21, 2015 05:59pm CST
By Matt Lockett: To See the Original Article in Charisma News Click Here
More and more Americans are sharing my disgust for the disturbing disregard for human life casually displayed in the videos released by the Center for Medical Progress, part of an undercover investigation of Planned Parenthood abortion centers.
In Video Four, a doctor dumped the remains of an aborted baby into a strainer declaring, "It's a baby." The final words of commentary during the horrific dissection brought me to tears—"Another boy!"
Last week in Video Five, more technicians joked about the high volume of their abortion work as they tried to think of which baby remains to pick through. They laughed and said, "We had a really long day and they're all mixed up together in a bag."
Suddenly the technician remembered a perfect specimen to demonstrate the intactness and quality of the baby parts to be sold. As she pulled a 20-week-old baby from the freezer she said, "It was a twin."
It's a baby. Another boy! It was a twin. These phrases have ripped my heart out. These are not the words of pro-life activists, as the mainstream media would carelessly suppose. These are the words of the doctors and technicians callously searching for baby parts to be sold for money.
I am no longer praying for America's conscience to be pricked or pierced over the issue of abortion. Instead, I am praying for a gaping hole to be torn in it. If we as a nation are unable to respond now to these atrocities occurring with our ignorant permission, I fear that our collective conscience will be seared beyond recovery. A seared conscience is the worst of all conditions.
Something else grabbed my attention as I watched Video Five. The Planned Parenthood Gulf Coast facility featured in the investigation is the same abortion "supercenter" that was highlighted by the Lord to Bound4LIFE—during the center's construction in 2010. It is the second largest abortion center in the world, a staggering 78,000 square feet.
On Martin Luther King Jr. Day, Jan. 18, 2010, Bound4LIFE mobilized nearly 15,000 people to stand together in prayer against what that building represented—a bold and unapologetic expansion of the abortion industry and its racist agenda.
More than 10,000 people of mixed race marched through the enormous minority neighborhoods surrounding the facility (African-American and Hispanic).
Then another 4,600 people stood in silent prayer around the unfinished building with Life Tape covering their mouths. Their appeal was to a heavenly throne that day, in the face of what seemed like an unstoppable giant.
Now, five years later, that same facility has taken center stage in the horrific controversy. Their cold disregard for human life has already led to numerous states terminating their Medicaid contracts with Planned Parenthood affiliates—beginning with Louisiana Governor Bobby Jindal.
Right now I want to call upon the 15,000 people who stood in spiritual defiance at this supercenter in 2010: Your work is not done.
What's happening right now is undoubtedly an answer to the thousands and thousands of prayers that we sowed together. What's needed in this moment is another surge of prayer to push things through.
Remember the urgency that drew you to Houston in 2010? Something had to be done, and you weren't willing to just sit it out. Find that same determination and divine motivation once more. God wants to release justice in response to the cries that have been made.
I am also dreaming of pastors who will call for "Emergency Sanctity of Life Sundays" beyond the usual once-a-year rotation. The moment in which we find ourselves calls for immediate awareness, education, prayer and mobilization.
We simply can't wait for a normal cycle of messages to come around. If you are a pastor or a church leader, please consider this.
Let the spiritual dots connect in your heart right now, because a testimony of answered prayer is building. We must be faithful and patient to see it all the way through. Be a voice again, both in the courts of heaven and on the earth.
By Matt Lockett: To See the Original Article in Charisma News Click Here