/*

*/?>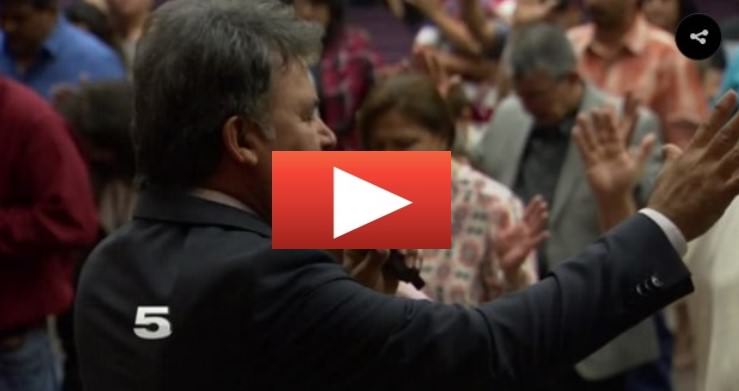 A Pastor, the Cartel and the Cross
/*
May 4, 2016
*/?>
Posted By
nbrr
on
May 04, 2016 11:01am CST
Across the border, speaking out against the drug cartels means consequences. So far this year, five Mexican journalists reporting on cartel-related crimes were silenced by cartel hitmen. Nearly 100 outspoken mayors, who railed against the cartels, were murdered during the last 10 years. And even priests aren't safe. Gangs violently killed 11 in the past three years, and two more are missing.
The violence is enough to make leaders, even on the U.S. side of the border, afraid to speak out against the cartels.
Palmview Pastor Juan De La Garza said he isn't afraid, despite the death threats.
Every Sunday at Iglesia Del Pueblo in Palmview, an armed sheriff's deputy patrols the parking lot. His vehicle lights flash as a warning. People from all walks of life file into the church.
One Sunday, De La Garza received his first threat.
"They said, 'You have a big church; you have money. We've seen your cars, so we're going to come after you.' That was on an envelope," he said.
A collection envelope carried the first threat. De La Garza ignored it and continued holding services.
It was the third threat that triggered a call to authorities.
"That's the reason why we have security outside right now," he said. "When I had a chance to speak to the governor, Governor Abbott, about three months ago, he asked me, 'What is your main concern in the Valley?' I said security. I know that for a fact I'm not the only person that has been threatened."
CHANNEL 5 NEWS visited De La Garza's church to hear his message. One would never know his life was threatened by listening to him preach. He switched easily between English and Spanish.
De La Garza spoke of the temptation of getting involved with drug and human smuggling, about violence and everything else.
"The violence that is happening, the drug cartels, it is my understanding that they're hiring young kids also from our communities," he said. "Those are the main concerns, and I think we need to deal with this. That's the reason why we speak up."
In Mexico, outspoken religious leaders are often silenced. Father Erasto Pliego De Jesus was found dead last November in Mexico's Puebla state. He was the 11th clergyman found dead in three years.
De La Garza said he's thankful he gets protection on the U.S. side of the border.
"I got a call from Homeland Security asking me all these questions," De La Garza said. "And he (the caller) said, 'Pastor, you're going to be protected. And in fact, we're going to send some agents to your church. You will never know who they are, but they will be sitting in your church. We're going to help you, and we're going to protect the churches in the Valley.'"
Cartels aren't only targeting outspoken religious leaders. Journalists and politicians are victims, too.
Iglesia Del Pueblo is home to a radio station. The airwaves of 1580 AM reach across the border.
"We have some reporters that are over here right now, that are saying things that the people over there are not saying," De La Garza said. "They're speaking out against violence, against crime."
News, opinion, politics and gospel are the focus of the station's broadcast. And it often welcomes guests from Mexico.
"They say things that they're not saying over there, because of a lot of the media is paid over there, on what to say and what not to say," De La Garza explained.
Radio is just another way Pastor De La Garza reaches out to the community to talk about border issues.
Another tool the pastor uses is an army of community leaders. De La Garza calls it the "One Church Network." Pastors come together to pray, to talk about the real issues.
"I think we are gathering the courage to just stand up and be bold, even if that means sometimes being not politically correct or not saying what everybody wants to hear, but rather standing up for the values that we preach from our pulpit every Sunday," said Chali Martinez, pastor of the Vital Church in McAllen. "Us being a border area, there's a lot of drug trafficking problems."
Martinez said he tries to give children an alternative to gangs and crime through youth ministry. He and the others in the group get support from each other.
There aren't just pastors in the One Church Network. It also consists of Valley businessmen and women, law enforcement and even politicians, like Jaime Gutierrez, a candidate for the Mission City Council.
"I think that's where we have to play big role, you know, in being part of the solution," Gutierrez said, "not just criticizing a system or criticizing something, but coming up and saying 'Hey I'm not here to talk bad about you. I'm here to help you.'"
Not everyone in the group belongs to the same denomination, or even to a church at all. They were all brought together by Pastor De La Garza.
"He doesn't hesitate to talk about things like that," said Elma Esparza, member of the One Church Network. "I think he's bold. And we need pastors like that, that just are bold and speak out."
Together the group said they are not afraid to speak up and reach out to people in crime-ridden colonias in Hidalgo County. They're places Hidalgo County Sheriff Eddie Guerra said are often overrun with cartel-related activity.
"It's very important for community leaders, like a pastor, and not only a pastor, but community leaders within certain areas, like colonias, to partner with us," Guerra said.
The sheriff encourages people like Pastor De La Garza. "We need that partnership between us and the good, law-abiding citizens to fight the criminal element," Guerra said.
De La Garza said he doesn't consider himself to be an activist. He said, "I just want to say, 'This is what's going on. And this is how we need to deal with it.'"
Border violence found a way into De La Garza's congregation. "We have a couple in the church, and we're still praying that their son will return," he said. "He went to Mexico. This has been over five years already. Chances are that he might be dead."
Cartel activity impacts the entire Rio Grande Valley.
"The more that we hide the issue, the bigger the problem," De La Garza said.
Addressing the cartel activity and violence may draw threats, but it's a cross Pastor De La Garza is willing to bear.
De La Garza said he believes the cross will always be stronger than the cartels.