Posted By
nbrr
on
October 26, 2016 12:44pm CST
By Alice Patterson, NBRR
Building Relationships. Partnering with state and national leaders. Sharing our expertise (and even our large mailing lists!) with those who join arm-in-arm in the battle. Equipping. Empowering. Mobilizing Biblical-values voters. Praying. Trusting. Reaching across racial lines. Working behind the scenes. These are core values of the National Black Robe Regiment (NBRR). As our founder David Barton says, "We want to play well together in the sand box."
This year NBRR researched candidates, prepared voter guides, and forged partnerships in 13 states – 12 of them battleground states. We take seriously the prayer of Jesus in John 17:21 "that they would be one." Because the Body of Christ is made up of many ethnicities, we build relationships and partner across racial lines with national leaders and networks of Blacks, Hispanics, Whites, and Asians (including Koreans, Chinese, Japanese, Hmong, Filipino,
Indonesian and others). For example, we work closely with groups such as the Hispanic Action Network (HAN)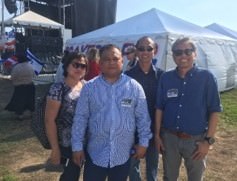 founded by Rev. Mark Gonzales (who is also the Executive Director for NBRR); the Frederick Douglass Leadership Institute (DLI) founded by the Rev. Dean Nelson; the Asian Action Network (AAN) founded by Rev. Herman Martir, and with local and state religious and pro-family organizations.
(See Herman Martir in light blue shirt above left along with some of his ANN team and top photo Andrew Shannon praying with his team.)

In every state, we printed and distributed our voter guides in English and Spanish, and in some states also in Korean, Chinese, and Hmong. Our goal is always to leave the state stronger and better organized than it was when we went in. At NBRR, we don't make a media splash – we don't advertise, send press releases, or even talk to the media about our activities. We prioritize on-the-ground grassroots mobilization efforts, joining arm-in-arm with various individuals and organizations, laboring together for the glory of God. We do indeed play well together in the sandbox with others. We believe what Ronald Reagan said, "There is no limit to what God will do through one man who doesn't care who gets the credit."
"It's a blessing to work with an organization like NBRR that lets us do what we know how to do in urban

communities. Years of building relationships with pastors in inner cities produce a harvest in times like these. We share core values with NBRR and the other organizations and are grateful to be able to partner together in such a crucial time for our nation" — Rev. Dean Nelson, (picture right) co-founder of The Frederick Douglass Foundation and DLI.
Consider what occurred in Virginia as an example of what we are seeing across the nation. In the Old Dominion state, we partnered with Don Blake and the Virginia Christian Alliance (VCA),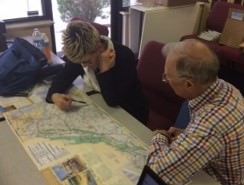 Andrew Shannon and the Southern Christian Leadership Conference of Newport News, the Black Robe Regiment of VA as well as state chapters of HAN, DLI, AAN and individual pastors, leaders, and organizations. It's tough to hand-deliver 560,000 printed copies of voter guides to thousands of churches across the state, but everyone joined together so that churchgoers could make informed decisions about candidates in this year's election. It's a beautiful thing to see the Body of Christ working together! (Above left — Alice Patterson, NBRR Field Director, with Alex a volunteer with VCA strategizing over VA map.)
There were so many positive and encouraging stories. For example, hard-working Andrew Shannon and his SCLC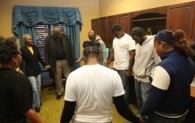 team (pictured left praying and right delivering voter guides in North Carolina.) were the first on the ground in Hampton Roads, VA, actively engaged "doing kingdom building," as Andrew likes to say. He and his team

are some of the best in the nation at grassroots work, door-to-door mobilization, and voter guide delivery. And in another location, when a white volunteer took voter guides in English/Spanish to a huge Korean church who needed 5,000, those church leaders were thrilled, declaring, "We love this country – and we need this information. We will translate it into Korean for you!" It was a gracious offer, but we had already printed voter guides in Korean.
Jonathan Carrizales and Alice personally delivered voters guides to hundreds of Black, White, and Hispanic churches across Virginia (only one small white church refused to take the information).

Herman shared this story, "One of our ANN volunteers is originally from China. I asked him why he is helping distribute voter guides. 'Because I have kids and they're growing up in an America totally different than the one I knew. If we lose America, the security of our children will be compromised. I love this country. I grew up under an oppressive government. I came to this country as a communist student. Somebody invited me to church, and I invited Christ in my life. I have family in China that I want to bring here. I'll do anything in my power to turn this nation back to God." 
HAN, DLI and AAN hold meetings with pastor networks to educate church leaders about the condition of the nation. This is not an easy task this year, but it doesn't matter: God put us here right now – for such a time as this, regardless of the ethnicity involved. (Left Pastor Marilyn Rivera, a Florida
HAN leader.) In one gathering, Mark spoke to a group of Hispanic leaders gathered together from across the nation. While immigration is a huge concern in the Hispanic community, Mark always points them back to the two absolute
Biblical non-negotiables of life and marriage. After finishing (and receiving rousing applause), a Catholic priest, Fr. Felix Medina-Algaba (pictured at right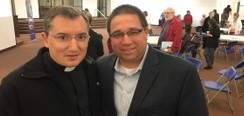 with Mark) responded enthusiastically and asked Mark (a Protestant) to speak to his church, made up of 23,000 households. Catholics and Protestants joined hands in defense of Biblical values in the culture!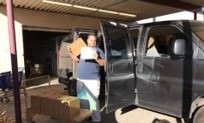 (Left is HAN leader Pastor Johnny Murillo loading voter guides in Colorado..)
We don't know what will happen this year, or whether we will be as successful as in the past. We will see if the Biblical-values voter information (along with prayer and the favor of God) are enough to override the disappointment and ambivalence expressed by so many Judeo-Christian voters this year. But at NBRR we don't look at the personalities or their rhetoric but rather at the public policies each will enact. And if Biblical-values voters stay home this election, or if they write in some obscure "perfect" candidate, we are likely to lose the Supreme Court for decades to come, and along with it any hope of protecting the sanctity of life, religious freedoms, or the rights of religious conscience.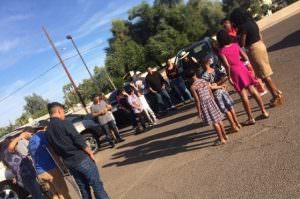 (Volunteers praying before delivering voter guides in Phoenix, AZ)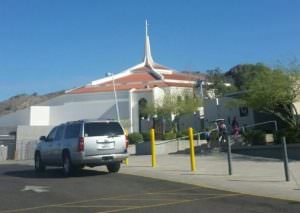 (Delivered voter guides to Southwest District Assemblies of God 75 churches and 20,000 voter guides)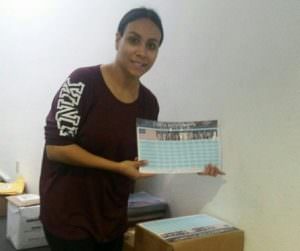 (Delivery of voter guides to Phoenix Baptist Church)